Creating Winter Wonderlands
You can't take Christmas out of Christmas – it's a basic rule in planning a festive party. Private party, corporate event or family gathering, Christmas celebrations all need to include those hallmark traditions that make this season so memorable. I am frequently challenged to place a contemporary spin on this, and creating winter wonderlands is one way of bringing the best of tradition together with a more modern, and elegant, approach. Here are some examples to whet the festive appetite:
Escape to Narnia
A book of our childhood – and latterly a blockbuster movie series – the wintry landscape of Narnia (from the Lion, the Witch and the Wardrobe) is popular festive backdrop. Entering through the wardrobe. Changing from autumn to frozen winter. Icy landscapes set against a background of cool blue and hot pink light production. Clear Perspex tables. Clear crystal candle sticks. Frosted fruits, twigs and pinecones. In addition, an icy dancefloor sits under the chandelier of delicate frosted twigs. Bring a warm coat…….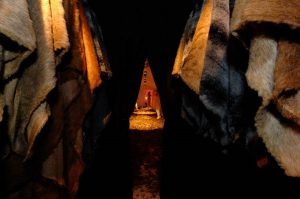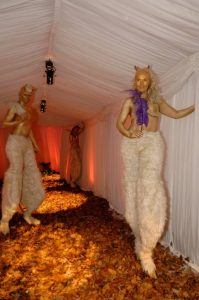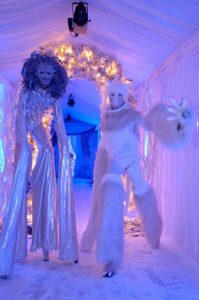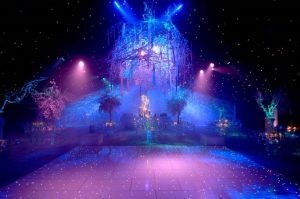 Cool Winter Dining
Dramatic lighting production of pink, blue and green puts wooden bench tables under the spotlight. Faux fur throws add warmth to rustic seating. Tables lined with white frosted branches, ferns and pinecones. Giant frosted trees provide height and mingle amongst the crystal chandeliers. In addition, chunky white candles sit inside clear storm jars and atop of Perspex tables filled with snow!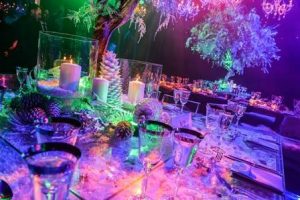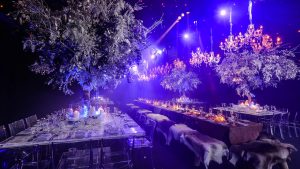 Snowflakes are Falling
Walls and ceiling washed with blue and falling snowflakes. Long tables dressed with black linens nestle next to silver chairs. Tall silver candlesticks entwined with fresh foliage. Pinecones, green ferns, clear glass beads and delicate cream roses work perfectly with the chunky cream candles. Add to this silver tableware and clear crystal glasses with rims of silver. A truly stylish banquet.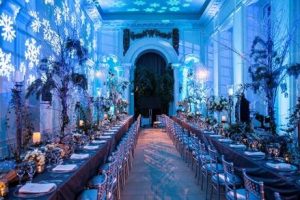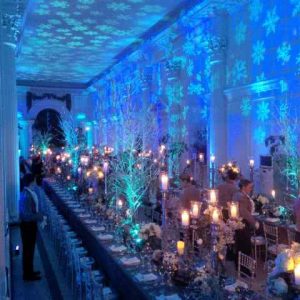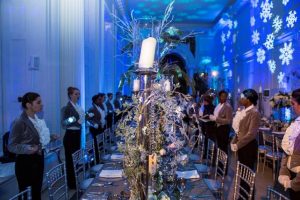 Importantly, the key to making these three winter celebrations work is that whilst they capture much of what is traditional at Christmas – snow, frost, ice, pinecones….they are all presented in a much more contemporary, inventive manner. What's more, even Rudolph can be included…our giant silver reindeer is a talking point at any Christmas party!
So whether it is an office party for 20, or a company event for 200, the Taylor Lynn Corporation (TLC) could be creating winter wonderlands with a unique vision just for you. Get in touch! E: taylor.lynn@tlc-ltd.co.uk
More images at: EVENTS GALLERY