Growth in Corporate Events Inspires Two New Appointments at TLC
With steady growth in the private events sector this year, and an upsurge in corporate event enquires for 2018/9, events management company, the Taylor Lynn Corporation (TLC), has strengthened its events team with the recruitment of two new event managers this month.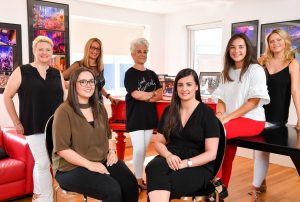 Natalie Eastwood joins TLC from Silverstone Circuits and Lauren Worsley from Hallmark Hotels, both taking up the role of corporate events manager. The duo, both graduates in events management, bring with them over 15 years of events management experience across the international sports, corporate and private sectors.
The appointments bolster TLC's corporate team and is part of the strategic development plan for 2017-18 that also saw Ellie Barnes promoted to the post of operations director earlier this year.
"Business is growing. Corporate enquiries are already up by 30% for 2019. It's clear from the increase that companies are keen to invest in quality business events." said TLC's managing director Liz Taylor
"In spite of the economic uncertainty surrounding Brexit, I am seeing an increase in confidence by our corporate clients in their own marketing futures. Meetings, conferences and recognition events are firmly back on their agenda! "
Liz added: "Natalie and Lauren have joined us at an exciting time and their roles give us the additional employee support to deliver a series of events lined-up this year, but also a platform upon which to secure further growth in 2019."
-ends-
Image:
Team2018: L to R: (Standing) Frankie Lyons, Sarah Nunn, Liz Taylor, Jess Randall, Ellie Barnes, (Seated) Natalie Eastwood & Lauren Worsley
The Taylor Lynn Corporation (TLC) has its UK headquarters in Manchester and organises corporate and private events right across Europe. From blue chip businesses to sports personalities and television celebrities, TLC is the first choice for high profile parties, celebrations, conferences and corporate occasions. Find us on social media: Twitter @taylorlynncorp, Facebook @taylorlynncorporation or Instagram @taylorlynncorp
Biography & images of Liz Taylor available at – www.tlc-ltd.co.uk/tlc_ltd_press_room
Hi Res event images and more information is available at www.tlc-ltd.co.uk