Corporate Christmas parties are a great way to say thank you to staff for all their hard work during the year, and motivate them for the year ahead. And if you get it right, they can also be a fantastic showcase for your company. After all, anyone who has a brilliant night out on the boss is going to talk about it for months afterwards. But how do you make sure that your office festive event is one to remember? One way is to choose a show-stopping theme or glamorous styling for the party. It gives the night focus, colour and a sense of fun – all great ingredients for a successful party!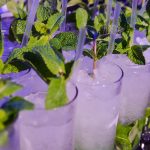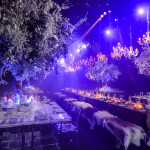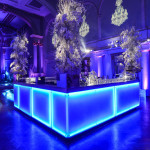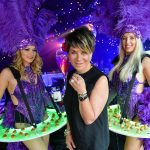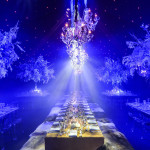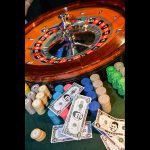 Here's some inspiration from previous TLC festive events that you might want to consider fro your next office festive event:
Winter Wonderland
Everyone loves a frozen fairy-tale at Christmas and although it is the traditional choice there are plenty of special touches to make your snow-scape stand out from the rest. The theme allows for plenty of snowflakes, glitter, sparkle and frozen cocktails, all of which get people in a festive mood from the off. Depending on the size of your venue, there may be space to set up a small ice –rink. Decorate props such as ice-sculptures or arctic scenes create fantastic photo opportunities and a snow globe photo booth encourages people to group together and provides a magical memory to share. At the end of the night a cone of roasted chestnuts and a mug of steaming hot chocolate with a splash of brandy will send guests home with warm thoughts of a fabulous evening.
Masquerade Ball
There is something exciting and decadent about a masquerade ball. The air of mystery it creates through the colourful masks also requires guests to buy into the theme before they've arrived. And this is where many bosses trip up. They think that because their staff are coming dressed for the occasion that all the organisers need to do is to put on a meal and a disco and it's job done. Here at TLC we think that if guests are going to the trouble to get involved then you need to make it doubly worth their while. Invest in dramatic lighting and sumptuous gold and red décor. It's all about the staging, so make yours like a Venetian palace – colourful, charming and full of surprises. You'll never forget this office festive event!
Las Vegas Theme
What Vegas can't teach us about parties isn't worth knowing. It is the ultimate adult theme park and since it's too far to go for the evening the next best thing is to bring Vegas to wherever you are. The secret is to get the right mix of bold colours, glamour and sophistication. You can't do this theme half-hearted. Even the waiting-staff need to be dressed for the occasion and we have a fabulous way of serving canopies on luminous trays that sit on the hips like an amazing ring-skirt. It's all about fun and not betting your granny, so keep the cocktails flowing, give your guests a set number of chips to play with, and offer a memorable prize for whoever wins the most at the end of the night.
Atlantis
If you want to plunge for something a little different the myth and legend of the Lost City of Atlantis offers the perfect escape from the hustle and bustle of the festive rush. Under the sea everything is chilled, the colours are more vibrant and there are hidden treasures at every turn. The success of this theme comes from invoking the imagination and guests need to feel like they have entered another world. Lighting is essential to creating atmosphere and fluorescent jellyfish add a dazzling effect to this mysterious subterranean city. You can create plenty of fun photo-opportunities with mermaids and shipwrecks. And a live swing band adds the perfect deep sea vibe.